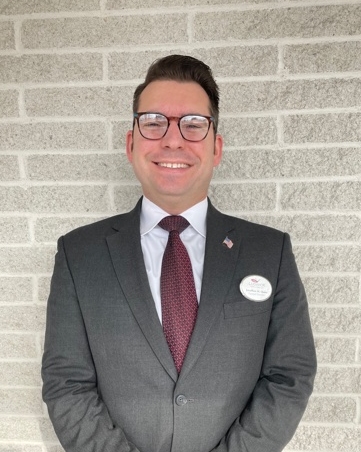 JONATHAN M. QUIER, a resident of Kutztown, PA, graduated from Kutztown Area High School in 2006, where he was very active in the entire music program and swim team. He is the son of Lisa (Herman) Bollinger of Topton and Michael Quier of Blandon, and grandson of the late Harry and Nettie Herman, former owners of Herman's Drive-In, Topton. Jonathan is a 2009 graduate of Northampton Community College, Bethlehem, PA, where he received an Associate Degree in Funeral Service Education. He was awarded with the 2009 Pennsylvania Funeral Director's Award, an award given to one student in the state of Pennsylvania, per year, who has excelled in education and showed outstanding knowledge of funeral service. Jonathan received his Funeral Director's license in 2010. Jonathan also is a Certified Crematory Operator, Certified Cremation Services Provider, and holds a Life Insurance Producer's License in the State of Pennsylvania.
He is a member of Trinity Lutheran Church, Topton, PA, and former member of St. John's Evangelical Lutheran Church, Kutztown, where he shares his musical talents with both congregations. An Eagle Scout, Jonathan is a member of several professional organizations: The National Funeral Directors Association, Pennsylvania Funeral Directors Association, Berks County Funeral Directors Association, where he served as President in 2017, 2018 and 2023, Eastern Pennsylvania Funeral Directors Association and International Cemetery Cremation and Funeral Association. During his time as President of the Berks County Funeral Directors Association, Jonathan participated with the Berks County Suicide Prevention Task Force, and the Decedent Care Committee Board of Tower Health – Reading Hospital.
Jonathan is a founding member of Friends of Brandywine, a non-profit community based group in the Brandywine Heights Area School District, which focuses on raising money to help students and families in need in the Brandywine Heights community. He is a currently a member of the Board of Directors for Kutztown Community Partnership and is active with the Kutztown Hobos. Jonathan accompanies several area music groups including The Kutztown Community Choir and The Reading Philharmonic Band on drums and percussion and performs vocally and instrumentally with other church and music groups throughout the Kutztown, Topton, Fleetwood and surrounding areas. He formerly served as the Assistant Director, member of the organizational committee, and performed with The Brandywine Minstrels for 10 years, as well as performing in several Fleetwood Community Theater productions.
Jonathan resides in Kutztown with his wife, Meghan (Smith) Quier, and his two children, Greyson and Addyson. He serves as the Supervisor of the Topton facility, and has been a part of the Ludwick Funeral Home Family since 2005. In December 2021, Jonathan purchased both the Kutztown and Topton funeral home locations, along with Deron K. Youse. He is honored to have the opportunity as a funeral director to serve families in the very community he was raised and help families in their time of need.